At last
My rally has come along
My lonely days are over
And exhaust is like a song, oh yeah
[WARNING: long post is long. For rally stuff start scrolling. For tourism, start here. Also, my apologies for the delay in posting this. I've turned my whole life upside down since the rally, so time hasn't been my friend.]

Every year I've gone to LSPR, I've wished I'd had more time to explore the Keweenaw Peninsula. There's something about the northwoods that always gets me, and this area of the UP in particular is full of history.
2016 was different. My rally buddy and his family had been living in the Keweenaw for just over a year, and at the very house in which he'd always hosted our group. Graciously, he welcomed me up for the entire week.
I wanted to drive a fun car this time; my cars have had issues every time I've driven them*, and the truck was not going due to ongoing maintenance and the possibility of road salt. The last two years I'd rented cars, but they were always compromises. This time I was looking for something with a stick and a hatch. So I explored all rental options, but none would rent me a stick shift, with room for a mountain bike, to drive to the UP. I even looked at Craigslist, reasoning that I could buy something cheap, then sell the car afterward to recoup some costs.
*In 2012 my Probe suffered a debilitating vacuum leak after an intake hose fell off, then got a phantom gas leak after driving a logging trail. In 2013, the aftermarket exhaust fell off my Civic at the downpipe on the drive home. In the dark.

Eventually I snapped back to my senses and went to Enterprise.
Walking in to reserve a car the week before departure, I noticed something in the lot. Something that would tick all the boxes except "stick shift". A bright yellow Veloster with a DCT. Sporty! Hatchback! Somewhat engaging transmission! I took it home right away, thankful that I had the money to rent this car for two weeks. In no time, I was getting a hot, delicious pasty at Muldoons.

On Sunday, with no time to waste, I rode out to the local Swedetown trails in Calumet to get the blood flowing. Unfortunately I was still working out a few kinks from the recent Alfine 8 installation the Friday before, so it was slow going. The bike was geared too high, but no bike shops carried larger IGH cogs to remedy it.

I rolled back to the house to meet my friend and we headed out in the Veloster. The destination: The Mohawk Mill and stamp sands at Gay, MI.
Basically, the mill expelled its waste off the Keweenaw's south shore and into Lake Superior. The sand built up over years and years and eventually created a sand bar that is probably 50 feet high, ending in a sheer cliff where the water has eroded it away. You can see the stamp sands on Google maps.

Underneath, and poking through in spots, are compelling industrial ruins. There is, however, almost no vegetation to 'ruin' the view today- its manmade landscape resembles a natural volcanic cinder cone environment like Sunset Crater.

We continued on through the landlocked buildings which were originally built at the edge of the lake. An artist had left eerie hints at the site's mining history.
It's uncomfortable to walk over 100+ year old concrete roofs, not knowing if they are structurally sound. But I still thoroughly enjoy this; with autumn's yellow leaves, the stark beauty of abandoned buildings and all those small 'miners' walking around, it's a wonderful place to spend a day.

One of the later buildings.

After that we hopped back in the car and headed northeast on Gay Lac La Belle Rd to check out an old rally stage- Gratiot Lake. It was a really rough road, but not as bad as in this onboard.

There was some standing water, though.
On the way home we detoured to Queen Anne Falls. After a short bike ride down a jeep trail, we hiked down what seemed like a sheer cliff. In addition to the falls, we saw, perhaps, evidence of someone else's journey (or maybe it was just stolen).
On Monday I was on my own- apparently normal people have to work during the week! I grabbed a pasty from Connie's Kitchen (a culinary staple of Calumet) and headed toward Copper Harbor's "epic" mountain bike trails. Splendid, as always. Sorry, no photos. I was having too much fun. Enough fun, in fact, to exhaust myself. I took the long way west, surmounting Brockway Mountain which used to be an LSPR tarmac stage back almost ten years ago. In the background is Lake Superior.

After all that activity I required a visit to Eagle Harbor.

I checked out the historic lighthouse and enjoyed a bite to eat at the Eagle Harbor Inn before heading "home". It was hard to believe I finally had the time to really enjoy the Keweenaw. It's such a great place to visit.
Tuesday was rainy so I decided to check out the Delaware Mine on M-41 just south of Eagle Harbor. The mine is privately owned and self-guided tours are available. It's creepy.

But also the guy running it has a pet skunk, so there's a first time for everything. The little stinker was kinda cute but I'm good with cats for now.

I found a cutoff trail (M-586) from Delaware Mine to Eagle Harbor, and it too used to be anothe LSPR stage. With ups and downs and flowing turns it's a very fun road but the chance of other traffic makes it too risky to really open up.
I poked around a bit more and found Garden City road, which is wider and smoother and faster. Still a decent drive and if you hit fall colors the woods are unbelievably beautiful.

It dumps into the town of Eagle River, which features a neat bridge and waterfall.
A famous UP snack rounded off the day.

Wednesday was my last day to explore alone- how time flies! I visited Torch Lake to see Quincy Dredge Number Two, a haunting hulk which sank in 1967.
Continuing through Hancock and around the Keweenaw's north shore, I stopped to greet Gitche Gumee. There's nothing quite like the cold wind of Lake Superior and the northern Great Lakes. Whether in Duluth, Copper Harbor or St. Ignace, that brisk chill always gives me a deep sense of belonging, as if everything is right with the world.

I pried myself away from the water, ate more Trenary Toast and cut south across the peninsula toward a little-known nature preserve. After a couple miles of tight, twisty and rough dirt road, I parked and started to ride out.
Halfway through the trail got too tight to keep riding so I hid the bike and hiked. The scenery was breathtaking.

A small fire ring and considerable waterfall marked the end of the trail for me.
The water seemed to drop straight off the end of the world.

The Keweenaw shoreline's value to the mining industry is apparent- brilliant strips of pure copper strike through the rocks. Jewelry for Mother Earth.
The hike back was just as beautiful, but still having some time before sundown, I headed out to Mandan Loop Road which served the former mining town of Mandan 100 years ago. Again, stunning foliage was on display. I missed the unmarked turn for the town site, but managed a little soft-roading before turning back. I'd like to return with a high clearance vehicle to finish the loop, which circumscribes the Keweenaw's tip.

Wednesday night my mom arrived from Minnesota (Hi mom!), having been hooked at the Prescott Rally a month and a half prior.
My other rally buddies from years past showed up as well. It's good to have some company, and we had some sightseeing planned. Top of the list was the Cliff Mine near the former town of Ojibway. According to Copper Country Explorer, this mine was the first Keweenaw copper mine to turn a profit back in 1849. There are still some ruins, and if you climb up the waste pile the cliff affords quite a view.
IB4 "Do you wanna be seen or nah?"
Below, mom conquers the hill. Hello, tiny Veloster and Rallyburban.
The view. Eagle River's west branch can be seen meandering northeastward.

That evening my mom and I ate some delicious Mexican food at Carmelita's in Calumet. After the passage of a few hours we all headed out for some aurora hunting. The lights were dancing as we left the house but by the time we arrived at the hunting grounds, the results were barely visible with the naked eye.

Friday the rally started, and we were scheduled to work crowd control at Stage 1, the super special stage at the Hancock fairgrounds. It was really soupy out there.
For Team Subaru, Pastrana (red) was running with Higgins (blue), but Travis only led for two stages out of 15. It was good to see him back though.

From there we were directed to Sidnaw for Stages 4&8, Teepee Tower. After much difficulty finding the right forest road, we were shuffled to our roadblock. We waited there and listened to radio chatter for some time before receiving news that the stage's first running had been canceled. Taking the mystery out of situations like this is one reason having a radio at a rally is a great help, even if you don't have your ham license.
I use a cheap Baofeng UV-5R with a Nagoya NA-771 whip antenna. A starter setup for sure, but it's better than nothing and doubles as a handy weather radio at home.
We waited a few more hours for the second running. I passed the time with my camera, bike and 1/64 forest ranger truck.

The sun went down, and eventually we could hear cars lining up at start control. Then they whizzed past with exhaust of a booming thunder storm, light of a blinding sun, and pelting of gravel that only rally can provide.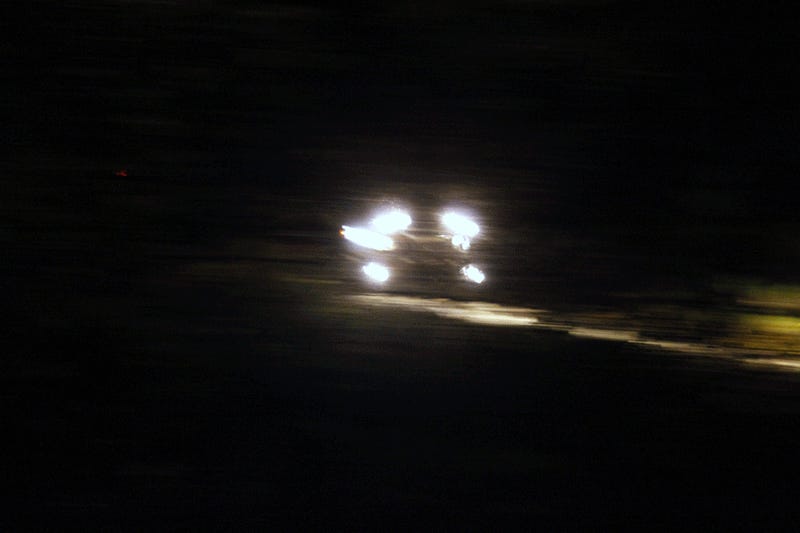 There is no rest for the weary though. After cleaning up after the last Friday stage we made the 70 mile drive back to sleep, arriving close to midnight. Sure as the gravel flies, though, we were up dark and early Saturday to drive 45 miles to L'Anse. This was the location of the Menge Creek/Stage 9's worker pickup. Since the first car was due out at 10am, we had to be there several hours earlier. Sleep is for spectators; when you're involved you just go!

I had figured out in 2015 that my rally stress level plummeted when I left earlier than the rest of the crew and drove conservatively. But this time, while driving down I-41 around daybreak, a police Explorer decided to join me. Right on my ass. And he continued on my ass for a few miles. The entire time I was doing no more than the speed limit; there was no rush. Apparently the cop thought there was a rush, though, because he dropped the Exploder down a gear or two and rocketed past me in the left lane.
A mile or so ahead, I was still doing the speed limit and found out why mister copper wanted to break his own speed limit- he was trying to get me to follow the lead. I can only imagine his frustration when my rally-stickered, bright yellow Veloster cruised by at the exact same legal speed as before.
I'll leave you to guess what happened to some others in our group. Thankfully, we all arrived at the Krist station safely. You can see in the background "That Guy" who drives an RRV (Rally Recreational Vehicle). Surprisingly, That Guy is always oddly skilled at hustling a mobile home down twisty forest roads just as quickly as the rest of us in cars.

Menge Creek Rd was as beautiful as ever. We were placed along a sandy power line trail so there was plenty to explore on the bike between stage runnings.

Sometimes the forest is so pretty you don't want to leaf.

A small mound gave us some protection from the cars and also a solid view of the corner!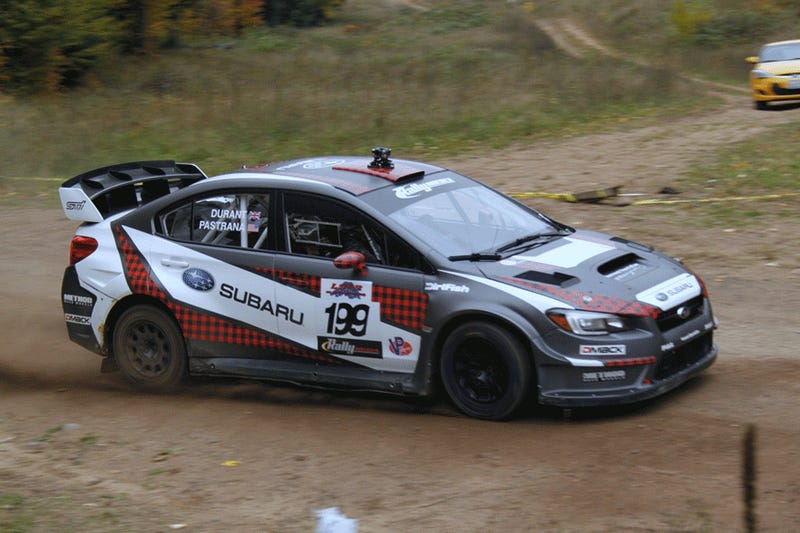 Here is my GoPro footage for the quicker portion of the grid on SS13.

I tried some photos from the inside of the corner. While it looked promising, the protective berm blocked the cars a bit.
We joke that the DatingSites.com car is just cruel ad placement for car guys.

The Porsche is sure to be a Jalopnik/Oppo favorite. I enjoyed its sound, seeing another rear engine car competing is exhilarating. The last one I can remember was the '70 Super Beetle in 2011.

Always fun to spot the local wildlife.

But wait! There's more! We high tailed it back to Houghton to spectate the first ever downtown stage, wrapping up the Rally America season!
Though crowded (naturally), it was pretty fun to watch. Come to think of it, this may have been the only tarmac stage I've ever seen over five years and eleven rallies. Check out the video; there was some showboating involved and a couple guys almost crunched it on a Jersey barrier. Oh, and Higgins (the frontrunner) seems to have stalled his car. What a surprise that was!

It was a pretty good day. But it got even better when I won a floor jack at the awards dinner afterward! Thanks, Krolikowskis!
2016 was by far my best LSPR trip ever, in no small part thanks to my friends' generous hospitality. But it may be my last for a couple years due to school and distance. However that does not dampen my desire to return to the Keweenaw's yellow leaves, muddy roads, rich history and- oh yeah- RALLYING!
Press on. And look for me at Southwest region rallies.